Stefani Buchwitz, Ed.D.
---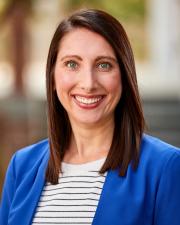 Biography
—
Dr. Stefani Buchwitz joined the Self Graduate Programs in January 2015.  As Director, she oversees the department and staff, sets the policies and procedures, manages the budget, produces unit reports, coordinates the Board of Trustees, implements strategic planning and evaluation, and supports the Self Graduate Fellows and Self Memorial Scholars. 
Dr. Buchwitz received her Doctor of Education in Educational Leadership and Policy Studies with a concentration in higher education administration in 2015, her master's degree in higher education administration in 2008, and her bachelor's degree in communication studies in 2006 from the University of Kansas.  Previously, Dr. Buchwitz worked at KU Medical Center within the Office of Student Life, the KU Alumni Association where she oversaw student programs, and as a Graduate Assistant at the KU Student Involvement and Leadership Center.  She resides in Overland Park with her daughters Sophia and Samantha.